I posted a while ago, that Laura completed her first layout. I kept forgetting to take a picture of it. However, she altered her first item today so when I took a picture of that, I dug out her layout. She has a little bit of everything on her layout, but look at her face, she's so proud of it!
She is always asking to scrap, so I'm sure there will be a lot more of her work to share. I hope when she's older, she looks back at this first layout with pride. It's busy, but it's cute.
She's even asked that we do scrapbooking for her birthday in May. I've mentioned it in passing to the ladies at Two Scrapbook Friends and I am going to get more details soon, so I can get it planned. I still can't believe in 86 (she asked) days I will have a six year old. Lots sure has happened in that six years!!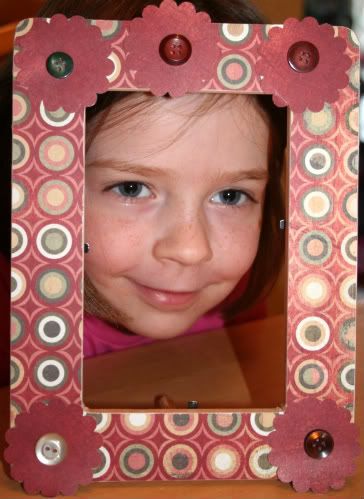 Today Dan took O out for groceries so that Laura and I could do her new project. She found it in a scrap magazine and showed it to me. I had some frames from Micheal's lying around, so I let her at it. She told me she was going to pick the "most beautifulest paper ever."
I told her that maybe she could give it to her teacher at the end of the year as her thank you gift. She said that I could make the other one and give it to her.
On her layout, I gave her an 8x8 sheet and other than poking holes for the eyelets, she did it all herself.
On the frame, she did the gluing, punching of flowers, button selection and most of the filing all herself. I did the cutting and the filing of the inside corners. She did another great job!